THE WINCHESTER-NABU DETECTIVE AGENCY

AMBER LOVE 10-JULY-2017 My work is supported by the generous backers who tolerate my cat stories at Patreon.com/amberunmasked and they also get first access to what's happening with my books and podcast.
[amazon_link asins='0692619682,0998061506,0998061514′ template='ProductCarousel' store='amberunmasked-20′ marketplace='US' link_id='291cf54f-5824-11e7-9586-05dd5b216325′]
ADVENTURES WITH GUS – CHAPTER EIGHT: HEAT WAVE
Where we left off:
Detective Inspector Guster Nabu explored the great outdoors and nearly caught his first snake. There are daily stakeouts of the finches.
EXTERIOR. WINCHESTER-NABU ESTATE. SWELTERING HEAT WAVE.
Detective Inspector Guster Nabu was a superb adventurer but a terrible investigator! He lead me in circles at first right out the back door in the little courtyard. Then he headed to the back 40. He walked nicely on the driveway (I prefer because it's paved) but kept trying to go next door. He finally got the hint and went around the Grumpy Old Man's workshop and up through Bunny Hollow.
I saw the ground moving (rodent of some variety)Â and tried to get him to smell it. He showed no interest at all. Almost immediately another garter snake – smaller than the last one we saw – slithered off the trail and into the bushes. Gus didn't even see that!
It was a damn good thing that Oliver and his human weren't with us. She's petrified of snakes! We finished that trail and walked back to the driveway and up the big hill. He didn't want to turn around & go back. Had to carry him now & then. Despite all the bug spray, they still managed to treat me like a buffet. When we came inside I was covered in a ton of new bites and welts.
Oliver took a less physical approach. He's exceptional at what's called dhyana (meditation) yoga. He sat on the yoga mat alone for a few minutes then I sat next to him. We did a three-minute meditation together through Headspace, the app Brian LeTendre spoke about during Vodka O'Clock 1711.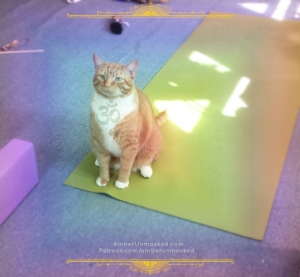 My human limitations caught up with me that day. I had trekked up that hill twice in the morning (to take each cat for a ride) and then again with Gus on his leash in the afternoon. Plus, I added a 45-minute hatha yoga routine. By the end of the day, I hurt all over. Gus continued to beg for a late evening exploration trip. Denied (in Suze Orman's voice).
These boys are dedicated to their detective agency. Gus and Oliver sulk and cry when they aren't allowed to go out. Each morning, Ollie hears me by the coffeemaker and politely comes over; he looks at me from the dining room table and then jumps into a buggy. After his walk, he has been sitting quietly at either of the 2nd floor doors to the balcony. Gus won't jump into his own buggy anymore. He needs to be picked up and put in; yet he howls furiously because Ollie is ready and goes first. All Gus wants now is his leash and harness even though he fusses when putting it on.
On the day when the heat and humidity were too much for the humans to even consider taking the boys outside, they were still allotted some porch time. They used it wisely to surveil the finches. Now that Gus has seen Oliver perch on everyone's shoulders, he insists on doing it too. The problem is Gus still wants to reach his monkey arms out and get a hold of the basket so I try to hold him in a way where I can secure his arms gently.
One thing about the finches, Papa Finch is very involved with his babies. It also seems to "take a village" in that we've seen more than two finches protect the nest; and it even looks like a few local catbirds talk to them and watch from the cables.
[amazon_link asins='0399163808,0399176993,1454917199,1454917202,0446560065,1847674844,085786078X' template='ProductCarousel' store='amberunmasked-20′ marketplace='US' link_id='58c0b34d-5824-11e7-ac3d-d736168d9417′]