OCTOBER – As Comic Fusion gears up to dedicate another season to raising money for domestic violence survivors, I took a journey revisiting my photo galleries of the event through the years.
This year Comic Fusion's Superhero Weekend is Oct 29-30, 2011
I don't have recaps from our early years of hosting the annual fundraiser at Comic Fusion. Luckily I do have some photos that include a lot of our costumed guests, artists and volunteers that came out, and a few of the art itself. What I can remember is that we started somewhere around $2,000 that first year and each year it grew. Combined with Portland, Oregon's event at Excalibur Comics, we've raised over $100,000 for different domestic violence charities!
I tend to feature our "celebrity" level guests like Pete Marston, Joe Sinnott, Ken Haeser, Jamal Igle and J.K. Woodward, but truly we would not have an event without the companies and comic professionals that donate to us every single year. That being said, we also wouldn't have raised any money without the fans that bid on the items! Bidding can be done via email proxy or telephone if you can't personally come in to Comic Fusion.
2010 was a record-breaking year not only for gross intake but also because the single item intake of the Adam Hughes' Susan Storm-Richards sketch that fetched $7,000! That one piece alone was pretty much equivalent to the three previous years combined.
Combing through all the photos has been so much fun. Remembering how small the event started out when we had only local attendees and about three costumers. It was my first Wonder Woman costume that was my attempt at using a body shaper as a base and covering it with spandex and vinyl. It worked well enough but I stepped up my game after that.
Then I came to the first year Jill Pantozzi joined us as Zatanna. When her hair chestnut brown, Zee was the perfect character for Jill. The following year she was a femme Flash. That was the year Jill almost didn't make it. She was in a bad accident on her way to Flemington but her dedication to fundraising prevailed. We certainly would have understood if she had taken a cab back home but instead, Jill arrived in the nick of time to sweep through the raffle prizes and take home some art.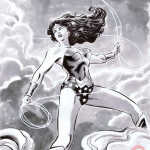 The event always focuses on Wonder Woman as our figurehead for female role models in comics but at Comic Fusion, we've always allowed a token amount of other characters in the auction as well. Now for 2011, the gamut is wide open to all characters that typically exude traits of compassion, justice, loyalty and of course fun. Sure, disturbing characters like the Joker or Deadpool don't make the most sense, but if it brings in bids then it raises money for SAFE in Hunterdon and that makes us happy.
Last year, I was able to write up some interviews with a few of the contributing artists. You can check the 2010 hub of articles.
2007:
2008:
2009:
2010: