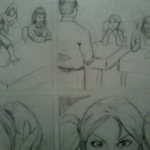 JAN, 2011Â (UPDATED 23-AUG-2011, UPDATED 26-SEP-2011, UPDATED 06-MAR-2012) – I'm pleased to announce that my first comic book short story is well underway. It's TEEN DETECTIVE, created and written by me with art from JAY FIFE and inks by MARK STEGBAUER. We just added THOM ZAHLER to the roster for lettering!
The pages have now been completed and are about to be sent to the publisher, CREATIVE COMPASSION comics. CREATIVE COMPASSION has a new Facebook page. Please "LIKE" us over there. All of the contributors to the anthology will be posting updates.
On September 26, 2011 my inbox surprised me with a note that lettered pages were completed and uploaded. All of these artists managed to squish time into their schedules in between conventions, jobs and families to spend the past year making this charming story come to being. A couple new images have been added to this post so you can see a sample of the final product. I'd like to add that because of this project and Comics Experience, the online workshop I've been able to participate in for a year, I've started brainstorming more TEEN DETECTIVE stories.
This story is special not only because it's my first comic but also because it came together as a collaborative project with friends who have rallied around helping out our society in our small nerdy way. Under the hashtag #EpicJam on twitter, there's big news from this project to come in 2011. The pages are still being penciled and inked. As soon as we have more news about publication dates and where to get the anthology, we'll shout it from the rooftops of the Hall of Justice.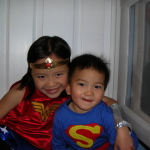 Artist HAROLD JENNETT and his extraordinary daughter HALLE had a moment on a family vacation in Washington D.C. where he had to explain to her about something he admits, he took for granted. She had never seen a homeless person before in her safe and loving family environment. Her sensitivity to seeing a homeless person for the first time sent Halle on a mission. She didn't suggest; she demanded that her father come up with a way to help the homeless of our country. The Creative Compassion books will have more than one volume. TORI BRIN won't make it into volume one but will appear in one of the later volumes.
from Jennett's blog, Sept. 27, 2010:

2-3 weeks ago, the family and I were in Washington DC, and my daughter Halle saw her first homeless person. We were following someone in busy traffic, and Halle saw him on the street holding a sign. She starting crying, yelling "Daddy, we have to HELP him!!". I couldn't stop, or we'd get lost in DC, but the sheer innocence of her reaction really got to me. I promised her, right then and there, that we'd figure out something we could do to help once we get home.

Since then, I thought "I don't know how to help the homeless. There are people that do. I, however, am really good at drawing and telling a story. How can I help the homeless with that?" So I talked to Halle, and we'd like to, under the banner "Creative Compassion", start a comics anthology, from which the profits go towards a homeless charity.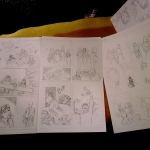 THE STORY:
TEEN DETECTIVE is inspired by Jay's daughter ERIN FIFE who is an incredibly talented kid that will be a star before she can legally drink. Yeah, she's that creative and dedicated to arts already. Naturally I couldn't help but add a little of myself into the formula for a strange girl that wears goggles and has a penchant for mysteries. The fictional TORI is a 13-year-old Freshman in the Student Film Club with her best friends Jackson and Carter (named after my friend's dogs).
Tori, Jackson and Carter have natural teen rivals in Amanda, Duncan, Lavender, Autumn and Chloe. Teen popularity, cliques, costumes and literature exams plague Tori and her friends. When Mr. Adams creates a contest where the team with the highest grade wins a cash prize for their favorite club, Tori finds the outcome rather suspicious.
TEEN DETECTIVE and all the stories in the #EpicJam will be suitable for all ages.
ABOUT THE ARTISTS:
JAY FIFE has made his mark in the art community with his glorious pin-up illustrations of sexy ladies and scary monsters. Jay recently began learning the ways of sequential art to naturally evolve his skill set and combine his lifelong love of comics with pretty girls and giant monsters by creating MARY MONSTER. Jay and Erin are from Ohio in a town even more remote than AmberUnmasked's headquarters in western New Jersey.
MARK STEGBAUER and I have been online friends for several years. His talent stood out to me so I wanted to make sure I kept my roving eyes on him to see where he landed. Twitter came along and we've managed to be constant online companions. Then finally we met in person at Wizard World Philly 2011. It makes life even better when an online friend is truly a nice person and not a creepy serial killer type! Don't you love that? Mark's inking is more delicate than the comictwart style I usually lean towards. His style is more like my friend Joe Sinnott who pioneered inking as its own artform back in the 1960s (still working today). He's out in the Milwaukee area so stupid geography prevents me from watching him work which is something I enjoy doing. When Andy told me he couldn't fit the project into his schedule, Mark was able to jump on. The fact that all these guys know and respect each other's work is helpful in a collaboration.
THOM ZAHLER is the master behind one of my all-time favorite comic books LOVE AND CAPES. Thom did the cover of my past anthology from my comics writing class, THE DECEMBER PROJECT and he's donated artwork for the annual domestic violence fundraiser. He's a graduate of The Kubert School which is one of the venues where I model but we only met a few years ago. I also had the honor of being his character Amazonia at his booth for New York Comic Con in 2010. He's also a master of trivia so I keep his number on my speed dial in case I ever get in the Cash Cab.
ANDREW HARMONÂ was originally the inker planned but had to leave due other scheduling commitments. I love Andy's work and his other charity work is very important. Â He's an alum of The Art Institute of Pittsburgh. He and his wife live in Altoona, PA. Andy and Jay also team up on Jay's original comic series MARY MONSTER. Andy has worked as a colorist for DC animation and graphic design. Andy is also the founder of a charity project called The Dynamic League (watch the video below to learn more).