AMBER LOVE 16-JUNE-2014 It's hard to say that a press pass can make one feel honored – it's not an award – but when I heard about so many professionals being denied tables and other bloggers being denied press at conventions for this year, honored to get access for ReedPop's Special Edition NYC seems like a fitting assessment. I was hopeful but I have learned some lessons about con politics over the years.
People are angered by Wizard World for some of its dubious moves like their penchant for setting up a convention near a small regional show to put them out of business or eventually buy them out. I bring up this stickler about Wizard because I didn't at realize at first that ReedPop's Special Edition was the same weekend as the Long Island Eternal Con, a show about which I've only heard positive things. I don't consider Special Edition competitive with Denver Comic Con because there's quite a lot of geography between them. Long Island, however, is just outside of New York City. There's also the Albany Comic Con a couple hours away. Not only that but the weekend also featured NY Comic Fest in White Plains which is Westchester just north of the city which also had the dates announced before ReedPop. That's the kind of low blow move that makes me mad at Wizard and here ReedPop did the same thing. It's ballsy. It's also exclusionary.
My friend and fellow podcaster Ian Levenstein said that the choice may have been solely because the Javits Center availability. When NYCC was in its infancy, scheduling for the Javits was terrible; the dates were shifted every year and one time it was in a blustery freezing cold February. Ian may be completely correct about why ReedPop would have picked this of all weekends to hold their Special Edition show.
What comics doesn't need is more divide between Mainstream vs. Indie. Comics and entertainment already have enough battles with gender issues, minority representation and money – the catalyst that makes the decisions for publishers which books to take chances on. The fanbase theoretically should be big enough to support three comic cons around New York City but I have to wonder if it really is. Since I didn't anticipate having to dedicate five hours to commuting time yesterday and didn't have an expensive NYC hotel room, I only attended the first day; I heard from a couple friends and watched the social streams which indicated that SENYC didn't warrant two days.
I know on Saturday some artists had done pretty well in sales but they were also artists who weren't dealing with travel expenses. A few sales to them was still profit. Others weren't so lucky. There was also a trend that everyone was either local or couch surfing; if people had hotel rooms it's more likely they were covered by the con or other buddying up with someone who was "Guest" status.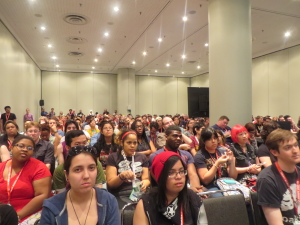 One of the best things was the panels. I had spent a couple years missing panels all the time because I would be on the floor in costume or helping out at booths. The past year I've enjoyed getting back to the programming of cons. The SENYC moderators that I saw were excellent at leaving time for Q&A and knowing precisely when to wrap everything up (queues from the floor managers of course). Only at the Reimagining Female Heroes panel was there a delay when Amy Reeder had been stuck at her previous panel and arrived a couple minutes late. Overall the panels I attended were very well presented and seats filled to near capacity or in one case, standing room only. Each panel had adequate slides on clear resolution giant screens. The bigger panels had a CCTV monitor of the panelists about halfway from the stage so people in back could see the panelists around unfortunately placed columns.
The only issue I had with the panels was that they were scheduled in the farthest possible rooms on the lower level. Panels are always held on the lower level but there are closer ones to the North Pavilion. Since it was such a smaller event than NYCC, there was no claustrophobic bottleneck nightmare to herd through in order to reach those rooms but it was still a poor decision to have them so far away. The distance immediately took away a bit of the appeal of how intimate the show felt.
For personal reasons, I had to opt out of the scheduled creator networking which was nearly two hours. I had planned for it. I purchased things to hand out and made sure I had a stack of business cards. I couldn't go and I'm suspecting the same issue will occur at the big show in October ruining the opportunity for me then as well. Regardless, I took those two hours and hung out with friends like Mike Norton and Erica Schultz.
A minor detail is that the program book didn't have all the names of panelists in the descriptions. Since most panels don't have placards on the tables, it's important that anyone in the audience gets to know who they are listening to. It's reasonable to suspect that the panelists weren't known by the time the programs needed to be printed but it still would've been helpful.
This may sound strange but I loved the fact that cosplay was encouraged but there was no need for a scheduled contest! Too much of the craft and fun of cosplay has been overshadowed by this viral need to win competitions. In my opinion, it's the source of driving people out of the hobby. Even when competitions aren't formal, people are compared to other cosplayers. You're too fat – your boobs aren't big enough – you're the wrong ethnicity – your homemade suit doesn't look as good as the one she had people buy for her on commission. My friends who were dressed up had a great time. Special Edition's lack of a contest was a beneficial change in programming.
I was there to cover as much of the event as possible. I'm happy to say that I was able to record 2.5 panels. Boosting the levels seems to have caused a strange high pitch noise over them but they are clear and still good enough for me to post which I did already. You can can subscribe to VODKA O'CLOCK through iTunes or Stitcher. I love when people do visit the site to stream them because I spend a lot of time on the show notes. A personal highlight for me was seeing writer Joe Kelly on the transgender issues panel but not for any reason related to that; his comic I KILL GIANTS is one of my all-time favorites and one of the ones I recommend to people. It was a huge fangirl moment for me to see him.
Vodka O'Clock 1420: 2nd half of the Kickstarter Panel
Vodka O'Clock 1421: Secret Identities, Transgender Themes in Comics
Vodka O'Clock 1422: Re-Imagining the Female Hero
ON TO MORE PHOTOS!