August 16, 2013 -Â Here's the press release you can use to help us spread the word for this year's comic art auction fundraiser for domestic violence survivors. Information is subject to change as with all convention planning. Look for our ad in the Magic Bullet comics newspaper!
If you are an artist who will be at the Baltimore Comic Con, please let us know (contact info below) and we'll try to stop by your table so you don't have to ship your sketch.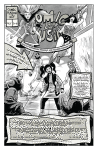 NJ'S SUPERHERO WEEKEND FOR CHARITY IS SLATED FOR OCTOBER 5-6, 2013 AT COMIC FUSION IN FLEMINGTON TO BENEFIT "SAFE IN HUNTERDON"
FLEMINGTON – The 2013 NJ SUPERHERO WEEKEND AND WONDER WOMAN DAY to benefit SAFE in Hunterdon will be hosted by Comic Fusion on October 5-6 in Flemington's Turntable Junction shopping village. Comic Fusion will auction superhero sketches to raise money and awareness for this domestic violence charity.
Since 2007, Â Comic Fusion has raised close to $50,000 for SAFE in Hunterdon. This has been made possible by tremendous volunteers and companies such as Dark Horse Comics, Ravenwood Masks, Del Rey/Random House, Universal Studios, Diamond Select & Diamond Toys, Tonner Dolls, and many talented comic book creators.
This year Comic Fusion welcomes to the store guest artists Jamal Igle (MOLLY DANGER, SUPERGIRL, KISS), Duane Swierczynski (BIRDS OF PREY, BLOODSHOT, GODZILLA), and even more guests to be announced. Musician Sarah Donner will join us on Sunday, Oct. 6!
Comic Fusion will also host the STAR WARS costuming group, the 501st Empire and the Rebel Legion along with Wonder Woman and many other costumed superheroes who will gladly pose for pictures.
The art sketches are auctioned with bids taken via email and in person at Comic Fusion. There are also raffles and door prizes.
"Comic Fusion is excited to host Super Hero Weekend in our new location in Turntable Jct! Our new location is bigger and will allow us to host more artists! Our Courtyard is more open and will give our Super Heroes lots of room to move around pose for many different pictures with their fans! And we will have an entire wall devoted to displaying the sketches we get from the wonderful artists who donate to this much needed charity event! Everyone who comes to this event is a Super Hero in our books!" said Stacy Korn, co-owner of Comic Fusion.
"There's no reason that superheroes in capes can't be relevant today. Characters have evolved over the decades to become better role models than ever before," said Elizabeth Amber Love, co-coordinator. "This fundraiser gets people talking about advocacy and awareness through the great support system of the comic book industry."
October is Domestic Violence Awareness Month and the comic industry brings awareness about issues of domestic abuse through annual fundraisers like NJ SUPERHERO WEEKEND AND WONDER WOMAN DAY. Domestic Violence Awareness Month grew from the original 1981 Day of Unity conceived by the National Coalition Against Domestic Violence.
Comic Fusion is an independently owned retail shop of comics, gaming and collectibles located in Flemington, New Jersey. They have organized an annual event to raise money and awareness for SAFE in Hunterdon since 2007.
SAFE in Hunterdon is a valuable community resource that provides transitional housing, 24-hour counseling, crisis intervention, legal advocacy and a children's art therapy program for those affected by domestic abuse.
###
CONTACTS:
Comic Fusion
16 Turntable Junction
Flemington, NJ 08822
(908) 788-0599
The official site will be update as 2013 sketches and donated items come in. Facebook's Comic Fusion group will also be posting as plans progress. http://store.comicfusion.net/wonder-woman-day.html
Elizabeth-Amber Love, Events Coordinator for NJ Superhero Weekend can be reached for interviews at amberlovescomics@gmail.com.
Stacy Korn from Comic Fusion can be reached at stacy@comicfusion.com and (908) 788-0599.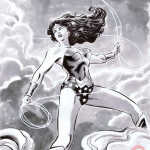 ART GUIDELINES:
* Superhero Weekend for SAFE in Hunterdon domestic abuse survivors' shelter and services.
* Need the scans of them by Sept 1st to be included on the official Comic Fusion website; actual sketches by September 15th.
* No larger than 11×17
* Based on past auctions: Inked sells better than pencil, color sells better than inked.
* More than one character tends to get more bidders.
* Characters cannot be depicted as sexualized, gratuitous, in a violent act, or in skimpy costumes. Regardless of what we the comics industry is used to, the sketches are representations by association of the shelter. If you have to ask if it's okay, it's probably not.
WHAT CHARACTERS:
Although we were founded as a Wonder Woman Day celebration originally, our market base to reach bidders required us to expand in order to do what's best to raise the most possible for the charity.
Mainstream superheroes or characters that most people will recognize like Fantastic Four, Justice League, X-Men, Birds of Prey, Star Wars, Doctor Who, Firefly. Couples/groups work great like Black Canary and Green Arrow, The Question and Batwoman, Spider-Man and Mary Jane, Lois and Superman, etc.
Characters should be shown in tasteful pinups or scenes. Again, if you have to ask if it's okay, it's probably not.
COSPLAY GUIDELINES:
No working weapons.
Nothing horror/scary.
Nothing too skimpy or revealing.
Characters should be family-friendly.
We prefer to not have duplicates of characters since this is a small store event (unless it makes sense like multiple Stormtroopers).
Any behavior/harassment issues should be reported to Bill & Stacy of Comic Fusion immediately.
Visit our history of Superhero Weekend.