COSPLAY TUTORIAL:
PLANET GIGANTIC'S QUEEN NEVA (ACTION LAB)
AMBER LOVE 25-SEP-2015 As per all my costume tutorials, this series for QUEEN NEVA instructions includes the things I did wrong or simply could've done differently. A lot of my attitude on this one has been that it's for fun to wear to a charity event where a couple of the QUEEN NEVA creators will be appearing. If you're working on something for more competitive reasons, you'll want to look up tutorials on YouTube, especially for foam armor, that are better than what I managed here.
I had a lot of fun making this because I wasn't stressing about it. I did burn myself on a couple of occasions which was the worst part. Otherwise, anything that wasn't working the way I hoped, I worked around and got to the "good enough" stage.
QUEEN NEVA first appears in the comic book by Eric Grissom and David Halvorson on PLANET GIGANTIC volume one "New World Home" page 19 when twin cyborg children, Yuri and Valentina land on the planet for their exploration mission. Queen Neva of Woodmere is one of seven sisters that has a realm. She also happens to be a villain so I can finally add one more to my villain cosplay credits (I think Harley Quinn and Ace were my only other villains so far).
QUEEN NEVA COSPLAY BUDGET:
I was trying really hard not to buy anything and make this completely from things on hand or gifted.
Items I had already:
Black spandex for skirt base (milliskin, usually around $8/yard from spandexhouse.com)
Gloves – were white gloves from a cheap online Halloween store that I used for a previous costume
Craft foam sheets
Red gemstone for helmet
Fray check
Gold spray paint
Eye shadow
Spray glue & hot glue
Belt – was purchased years ago for a costume I never did
Wig
Sheets of white tissue paper
Items gifted:
Dark green chiffon fabric – cut up a thrift store prom gown that was gifted to me by Kate the Geeky Redhead, one of our convention coverage contributors here.
Skulls for helmet were a gift from Gareth, one of our AmberUnmasked cosplay contributors
Purchased for the clothing & some prop work:
Green fabric marker – $4
Bright green fabric for skirt – $8.50
White t-shirt – $5
Rit dye – $4
Glues (white Elmers, contact cement) – $5
Purchased for the magical staff:
River birch branch – $20 (because I was too lazy to go in the woods and find one and this managed to be the most expensive purchase)
Bag of assorted moss – $8
Styrofoam ball – $6
Clear plastic holiday ornament for the staff – $3
Air dry clay – $7
White, blue, and brown paint – $3
Black paint – < $1
Still need to get hair clips for the helmet to attach to the wig/hair; and need velcro to attach the shoulder pads to the shirt. I think that should run around $10.
That adds up to the clothing portion costs for me being around $26 and the prop supplies around $55.
HOURS FOR THE PROJECT:
I didn't do a great job logging my hours. I definitely didn't include any time shoppping and planning. These are basic estimates of key steps. Also, due to applying layers of glue, waiting for clay and paint to dry, and regular limited time working on it, this was spaced out all through September.
Dying shirt and gloves – 1.5 hours
Pauldrons – 2-3 hours
Helmet – 3-4 hours
Skirt – 3 hours
Clay sculpting – 1 hour
Papier Mach̩ styrofoam ball Р1 hour
Attach and paint eyeball to staff – 30 min
Reinforce seams of gloves – 30 min
Alter shirt and finish the staff (final painting and gluing moss) – 1 hour
SKIRT:
The skirt was made by using the skirt pattern I used for my "POW BANG" skirt that I wore to FCBD signings when I wasn't in a costume. That was using a Butterick "easy" pattern B6044 which I scored from the Joann's sale rack for about $3. It's a really easy pattern and to be honest, since I was using milliskin spandex here, I didn't even bother making the waist – it's just a raw edge. If it was any looser, I'd make a hem and thread a drawstring through it, but after I tested the fit, I don't need to do that for me. My hips keep it in place fine.
The pattern pieces were cut and the sewn together. Because I was going to cover most of the black anyway, I wasn't worried if there were any sections that weren't lined up perfectly.
I used the old prom gown create the first layer of large leaves. I didn't do anything special them to them. I put the black underskirt onto my dressform and then pinned the leaves randomly all over. The leaves were zig-zag stitched only along the top border of them so that they mostly hang free and wispy.
Then I realized I had way more black showing than I wanted. I also didn't like how the dark green was so drastically different from the green foam I used for the pauldrons. Plus, I like to create contrast. I'll normally add or subtract elements from a character's "official" design. Usually that's on purpose, but sometimes it's because of budget, skill level, or just something I failed to realize.
To fill up the skirt more, I got two yards of a bright spring green fabric which was very thin. It's also the type to fray a lot. The dark green is subject to fraying too, but it doesn't seem as bad as to be noticeable.
I folded the bright green fabric a few times so that I only had to cut through once. I drew a bunch of leaves of different sizes with the dark green fabric marker; then cut out the pieces. I used Fray Check to go around all the edges. FYI, Fray Check can get you really high!
I drew details on the bright green leaves only, adding veins so they have an obvious "leafy" quality.
Then the bright green leaves were pinned into place and sewn on in the same way as the dark green ones.
Since I didn't finish the waist properly, this was all I did for the skirt.
BELT
All I did was dig out a silver belt I originally purchased years ago to do Black Widow. I spray painted it gold on the one side and that was it.
SHIRT & GLOVES
I bought a plain white t-shirt which was located on shelves next to the fabric dye selection of my local independent craft store. I picked up one box of purple Rit dye.
I used half the package of dye at first, following the instructions for cotton fabric. I wasn't happy with how pink-ish the color was coming out. I kept brewing it on the stove for 90 minutes. I even received tweets back from Rit Dye's official Twitter account asking if I needed help; I wrote back saying I'd love advice on getting this darker, but then never heard back.
The gloves are completely type of fabric which was why I had to do them differently. I think the instructions on the package said something about adding vinegar and salt. I can't really remember, but it was the instructions inside the box. It only took a minute for the gloves to come out the shade I wanted. The problem is, they're kind of speckled.
Also, for both the shirt and the gloves, none of the thread dyed so there's some visible white thread. I suppose if you're doing this for a competition, you could rip all the seams and re-assemble them with appropriately purple thread. Actually, if you're doing this for a competition, just make a shirt and gloves from the same purple fabric and you won't have any of these issues.
I put the shirt back into the dye bath because I wanted to get it less pink. As I said, it totaled 90 minutes and finally came out a type of purple, just not a matching purple to the gloves.
Per the instructions, each piece was rinsed in water and then hung to dry.
When I did a first fitting, the shirt still looked too much like an average t-shirt so I wanted to alter it.
I turned it inside out and put in on to roughly pin where I could take it in. Doing this on myself wasn't the best, but I managed. I took it off and laid it flat on the floor. I used a disappearing ink marker to draw on one side where I'd make new cuts.
I cut the one side (either left or right, doesn't matter). Then I used the piece I cut as a pattern piece, laying it over the other side and pinned in place. I cut the opposite side. This was to make sure that I wasn't estimating two sides that should be equal and possibly getting one way off.
This process was done on the torso of the shirt and the sleeves. Then I pinned the newly raw edges of the torso to make new side seams. I pinned new hems for both sleeves. Using a zig-zag stitch, I went up both sides and around each sleeve hem.
I turned the shirt right side out and tested. It fit much better. I still didn't like the original t-shirt collar though. I cut off the collar and gave it a little "V" neck quality.
I turned it inside out again and made a new hem with zig-zag stitches using purple thread. I bypassed the small sections at the shoulders where the t-shirt has really thick seams. I knew it wouldn't go through my machine and it's only about a quarter of an inch at each shoulder. I tested it out again and this time was really happy with the results.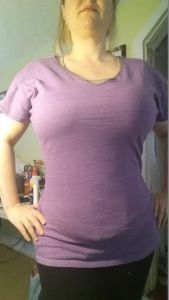 I'll mention here that I was wearing a corset when I did this shirt alteration. I had it on for other reasons and decided, what the heck, I'll see if I can fit a shirt over it. I loved how it looked, helping my figure out so much; so even though you can see the bumps and ridges that there's something under the shirt and wearing a corset makes basic things more difficult (like breathing and going to the bathroom), I'll probably be wearing one under the t-shirt.
FOAM ITEMS: PAULDRONS & HELMETS
I knew I'd be painting the helmet so I didn't care what color foam sheets I used for that part. For the shoulder pauldrons, I used green because they're leafy.
I used a boxcutter to cut out a ton of leaves ranging from a 2-8" in length.
The helmet probably should have had greater planning and prep. I was okay trying to figure it out as I went along. I watched a few YouTube tutorials on foam armor.
The foam is easily bendable. I freehand drew one side of helmet front and then folded it over to cut out a full piece. The problem is that the foam moves when you're cutting through it so you have to be sure to hold it firmly.
The helmet also required horn pieces and a top plate. All the pieces of foam were given the glue treatment. That means using a brush to paint on layer after layer of Elmer's white glue. You need to do this for craft foam because you can't paint on it directly and need the base. If you're using more expensive foam like Worbla or EVA foam, you could base coat those with gesso. I was using cheap stuff so I used cheap glue instead of a more proper primer. (*Gesso is what artists use to base coat canvases).
Helmet-specific steps:
At first, I cut two identical pieces for each side of the horns. If you don't care about making it perfect, say it's just for a Halloween party, you could have the horns kind of flat. I wanted to make them three-dimensional if possible. I watched more YouTube tutorials and everybody makes horns a different way. I wasn't going for "perfect" only "better" so I cut a small triangular piece for each horn to use as a sort of third side. Horns should be more cylindrical than sided, but it was my first time making foam armor and I didn't want to stress about it.
As the tutorials I watched said, I used contact cement and a heat gun to assemble the pieces. It's pretty hard to have only two hands to use to glue together these pieces. I ended up accidentally applying the "plate" part, that's for the top of the head, ever so slightly off and on an angle.
When all the helmet pieces were cemented together and sufficiently dried, I moved on to shaping it. I put it on my wig head and used the heat gun to warm it up. It doesn't take long at all. I was worried about the layers of glue heating up and shifting out of place or making a mess, but it was fine. I left the helmet on the head for days until I could get back to it.
The next step on the helmet was to try and fix the seams. I consulted with Gareth who told me to try white glue. I did two applications of Elmer's into the seams to basically grout it. Since the white glue dried clear, I did one quick coat of gold pain to see how bad the seams still looked. The Elmer's didn't work well enough, so I went to my father and had him use a silicone caulk which he piped into the seams. He opted to make the seams come to a point since rounded the horns was already out of the question. I wanted it to look like metal and when it comes to armor, metal would have seams so, again, I was willing to give this a pass.
The caulk was left to dry for a day. Then I began to apply layers of gold spray paint. I usually left a day in between applications. I think at most, I did three layers of gold.
I needed to distress the armor because it was too shiny and gold. I knew I could wait to buy some brown paint and do it the way all the tutorials said to do; but I didn't. I wanted it done. I use a spray glue to make the surface tacky. Then with my fingers in rubber gloves, I applied some expensive Bare Essentials dark brown eye shadow to the edges of the foam. Between using my fingers and a makeup brush, this got sticky fast. I was worried about how it was coming out and if I was ruining my brush. In the end, it looked fine and my brush was easily washed with soap and water.
One of the last steps was gluing the red gemstone. I previously purchased several large packages of gems for other projects (if I need 5 stars of a certain color, I had to a bunch of assorted packs just to get them or whatever). I found the gem I wanted and attached it with the contact cement.
The final stage of the helmet construction was mounting the skulls. These were a gift. They're the perfect style (no mandible) and made of lightweight foam. I like the way they're colored already so I didn't have to paint them at all. They were fashioned with plastic hooks on top and ribbons to be hung. I cut the hooks and then used my Dremel to file them down as best as I could. I tried filling them with caulk too but it wasn't really doing anything and I don't think people will be closely examining the top of my head. In other words, it's good enough without breaking out the fiberglass and sandpaper and then repainting them. I tried attaching them with contact cement, but they kept sliding all over. I had to resort to hot glue which I hate. I always burn myself and I had the stringy webs that get all over.
When all is said and done, I really like the way the helmet came out for my first armor. It's a great barbarian, magical, fantasy helm. Kneel before me!
Pauldron-specific steps:
After layers of glue, I needed to make the bright green foam pieces look more like leaves. I didn't wait to buy paint and dug out some art supplies. I used a metallic marker which didn't come out metallic, a Copic marker, and a Conté pencil to outline the leaves and draw in veins.
I made shoulder pad bases out of the same green foam. They're just "U" shapes. I used straight pins to tack the bases around empty Pringles cans.
Using the heat gun, I warmed up the bases and got them to take shape.
Next was to glue all the leaves in layers onto the bases. I did this with contact cement which was starting to get pretty messy. The applicator stick inside the cement bottle wasn't working so I used an old crappy paintbrush to apply the glue to the backs of the leaves.
I used one hand to stick each leaf in place and the other to hold the heat gun. Applying the heat gave me the results I wanted. The leaves easily curved and stuck to each other. I have no idea how it happened, but I had exactly the right number of leaves for two pauldrons.
The final step after I felt they were hardened enough into a curved shape, was to cut out the tiny pieces of base that showed in order to make all the edges look like leafy edges.
The pauldrons will get velcro'd on the shirt.
LINKS:
Cosplay Prop Tutorial for Queen Neva's "Eye of Shadows" Staff 
Listen to my interview with Eric Grissom about PLANET GIGANTIC
Learn about Superhero Weekend where this costume will debut
Visit Action Lab to learn about their other great comics (I highly recommend the new AWAKE and ARCHON series)