FEB, 2011 – THE GOOD, THE BAD AND THE ADORABLE. My first ToyFair was definitely a pleasant and memorable experience overall. The coolest non-plush and non-statue item is the TRON cycle stapler; it wasn't even there to be displayed yet so I only saw pictures. It looks wonderful and I haven't even seen LEGACY yet. (I know. I know. I'm a terrible nerd.) The trend seems to be very round squishy plushes as well the visibly expanding lines of earth-friendly toys.
THE GOOD
There were several things that are worthy of harsh criticism but one thing I will say, it seems that the organizers of this event can do a much better job than New York Comic Con's Reed Exhibitions; this could be due to the massive difference in volume but the clarity of layout, the huge press room, and the helpful press liaison were a world above my NYCC
experiences. For all I know, Reed is responsible for ToyFair. I couldn't tell. All I knew was that it was an entirely difference experience. ToyFair is also for industry professionals and press only. Hence the reason that there were not 75,000 toy collectors and their children present.
THE BAD
As a Jersey Girl, I never really got too bothered by the apparent attitude of New York City – and I don't just mean the people, I mean the entire entity as it functions. In Jersey, we're just used to being second fiddle when NY takes credit for everything from the Statue of Liberty to the Jets and Giants. The urban jungle exudes this vibration that's a bit unwelcoming. If you play City of Heroes then you know the telekinetic Repel power (aka, "hero bowling") where there's a cyclone of energy around a person to keep the baddies at bay. The problem is everyone in NYC has this repulsion force field but due to the crowds you're often smashed up against each other anyway and this makes for some major 'tude. The remainder of the blizzard dump still made the sidewalks and parking spaces smaller and not easily accessible; and of course, the potholes in the roads could swallow a small car.
At NYCC, my roomie Jill Pantozzi and I were out of luck every time we tried to get a handicap accessible taxi cab. You can no longer call for them (you can see why we try to raise so much money for the Muscular Dystrophy Association).
For ToyFair, we decided to take Jill's specially equipped minivan right to the Jacob Javits Center which we've done before for NYCC on certain days. Normally, they allow the handicap spaces to overflow to the area right at the bottom level where all the cabs and buses line up. This time, the Javits' construction crane prohibited the security detail from allowing more than seven handicap parking spaces. That's right — SEVEN spaces for an entire convention. What baffled us was why there was street parking and pedestrian traffic allowed underneath the crane; clearly those people and their cars were not a concern. The security guards tried their best to be cordial facing our backlash. We knew it wasn't their fault but we wanted to convey our serious disapproval of these circumstances. One parking garage for $70 + one additional parking ticket from the street at $65 made me so glad press didn't have to pay for passes into the show because we more than made up for it. Needless to say, I was pretty much cursing NYC by the time we were ready to leave.
At the show, the only particularly "bad" part was that the majority of vendors acted like we were intruding on their precious time because they only wanted to talk to buyers to earn their commissions. We completely understand that many retailers are there to place orders. I used to work at one such store which only placed orders at the trade shows because prices were better. However, when a member of the press whether a journalist, camera crew or blogger approaches your booth, you should realize that you get better coverage with honey than with vinegar. Below I'm featuring products that I not only thought were great toys or collectibles, but I also found the staff to be courteous and helpful.
I only encountered two other problems one of which was at the ELOPE booth – this is a vendor of costume hats. I was photographing all the themed hats they had for Alice in Wonderland and Harry Potter. I went to enter the booth and take more photos and was told that it wasn't allowed if you're a costume designer. Note, I was not in any kind of costume. I gave the man my card and said I am in fact a designer but only for myself not the mass market; I further explained that the reason I was taking pictures was to point consumers where to go if they are looking for costume parts. He was fine with it after that and handed me back my card. Really? You couldn't just be polite and take my card?
The second incident was at the RUBIES costume booth. If you don't know, Rubies is the brand that you'll find in places like Target, Party City and Wal-Mart most likely. It's also the brand that people who make their own costumes often ridicule for their cheap production of overpriced bad designs. Some of them are okay but others are pretty awful. They had the STAR WARS DARTH VADER suit as seen in the car commercial worn by the little boy that keeps practicing his Jedi powers. But there were three product lines that were not allowed to be photographed including the new movie version of the GREEN LANTERN costume for kids. It's not even a good looking design. The pattern on the suit is unattractive and the mask is a completely different shade of green bordering on lime. Neither Jill nor I could understand the point in "promoting" something at a convention if people are not supposed to then spread the word about the product when they leave. I'm spreading my word about this one – make your own, it's not that hard to invent an original Lantern Corps member. Another reason why this makes no sense is because there are images on the net of the Rubies catalog pages showing the costume!
THOSE ADORABLE PLUSHIES!
My favorite toy discovery was the VAMPLETS booth which seemed to be built just for me. It was entirely in black and pink with strangely cute but slightly creepy vampyre dolls. All of the ladies in the booth were decked out in black and pink gothic wardrobes bustled and corsetted in stunning fashion. The vamplets are little vampyre babies that you adopt – think Cabbage Patch Kids for those of us a little off the mark of normal. You adopt a vamplet and can go online to register and print out your certificate. There are six choices of babies including Count Vlad Von Gloom, Evilyn Nocturna, Lily Rose Shadowlyn, Burton Creepson, Jr., Midnight Mori, and Cadaverson Nightshade. So far only one shop in New Jersey is listed as a retailer but you can adopt your own vamplet online through their shop.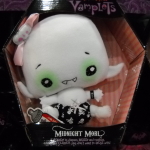 VAMPLETS also had a variety of buttons and babies' onesies which added to my list of adorable things seen at ToyFair. Even their business cards show all the thought of people who enjoy their product and have a knack for design. The side of the card has bite marks bored through with graphic blood drips. I was informed that these bite marks match up to one of the little sister vampyres.
KAUZBOTS are plushie robots uniquely designed to represent different charities. For each robot purchased, 10% of the retail price is donated to the "kauze" which that robot sponsors. Keith Page founded the company in Costa Mesa, CA and the way he explains the product's responsibilities is truly inspiring. There is KALVIN who is a kauzbot that is like a free agent; his charity designation is allowed to change every year while the other kauzbots are assigned permanently to a cause. KALE is a green kauzbot that supports the Arbor Day Foundation; the red kauzbot KARSON supports the AIDS Walk charity; KARISSA supports Share Our Strength; and the list of organizations and bots goes on.
If you like rustic looking plushies like UGLY DOLLS, but you perhaps want something based more on a real critters, then check out ZOMBIE ZOO. That's right.. ZOMBIE… ZOO. Animal plushies that are zombies. Really, I don't need to elaborate. They're rather adorable. Each one was designed by Neecy Twinem and includes a six-minute story. Twinem has written and illustrated over 26 children's books. There are currently the original size zombie critters but the minis were introduced at ToyFair and are to be released soon. The minis will be available without the DVD story for $7 or a full set of minis plus the DVD for around $35. The individual original size zombies retail for around $20.
I had seen the ads but this was the first time I can remember having the opportunity to squeeze the skooshy wonderfulness known as SQUISHABLES. These voluptuously round critters are oversize bundles of squishy delight. Can you keep up with these completely ridiculous adjectives? The Squishables are also releasing new minis which retail for around $20 while the oversize originals are about $40.
Rounding out the roundness are the TY BEANIE BALLZ which are variations on Beanie Babies that look like they've gone under one of Mr. Peabody's factory experiments. The babies are fashioned into perfectly round lovable animals that everyone will grow immediately addicted to. They even had several massively gigantic Beanie Ballz for the displays and it was hard to ever part ways with that booth. Plus they had a jester juggling the Beanie Ballz for the passers-by. TY has also added BEANIE BOOS which are plushie critters with huge sad eyes.
That sums up my first adventure at ToyFair. I'll be writing up a short recap about the Geek Girls Network tweet-up and the Midtown Comics/ThinkGeek Sleepover which were the two parties I was so very lucky to attend! I still need to recover though.