AMBER'S 2022 BIRTHDAY WEEK
Life updates in a nutshell:
I still haven't finished Farrah Wethers book 4 draft.
I'm still working on Witches at the White House editing.
Getting weekly cat detective cases posted.
Making daily cat, critters, and life posts on Instagram (for the most part).
Teaching aerial yoga once a week.
Gained a ton of weight once I went on medications.
Skin condition has continued to be bad and for years now my eyes are surrounded by unattractive blobs called Xanthomas, which sounds like an evil corporation Supergirl or Poison Ivy should destroy.
I am tired all the time.
Celebrate with Books:
If you could help share the links to my books and Patreon or leave reviews that would be fantastic! Tuesday, Aug 9th is National Book Lovers Day (which is really every day) if that's any incentive for you to make lists and share them.
**Also, you do NOT have to get these from Amazon. If you want to copy the ISBN and give it to your local book retailer, they should be able to get all my books.**
I'll even make it extra easy for you with pre-written tweets:
Decoding the hashtags for publishing, bearing in mind it's somewhat basic and could be specific to other codes like from Pitch Wars guidelines. MR = Magical Realism, NA = New Adult, UF = Urban Fantasy, etc.
If you happen to know any editors or agents in books or comics and want to introduce me, that would be sweet.
Support Things I Love:
Also, on Instagram @amberunmasked, I have a fundraiser running for Doctors Without Borders. The link should appear in my profile. It felt like one of the best ways to help Ukraine.
You can also join my Kiva team. You can choose to lend a small amount to people all around the world. Kiva's website has a lot of filtering options so you can find someone with goals you want to support. You can choose through filters like single parents, conflict zones, eco/green & fair trade, and women-run businesses. So far #TeamSeekingDharma is on its 16th microloan! We've helped Rosalina and her family get a sanitary toilet in the Philippines; Stella's group in Kenya need help with farming; and several others all around the world.
I'm putting it out there that it would be wonderful to get 50 people on the Team Seeking Dharma for Kiva! It costs about $30USD to make a minimum microloan.
You can also make a donation to the Stacy Fund at the NY chapter of the ALS Association in honor of Comic Fusion's Stacy Korn. http://webgny.alsa.org/goto/stacyfund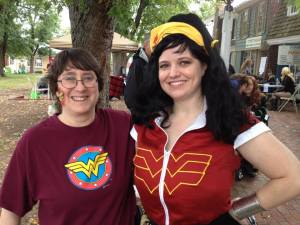 Of course many people in America and all over really are under attack – so is the environment and our animal friends. Here are some places that make an impact socially and economically: