Amber Love 08-MAR-2012 I've devoted a huge amount of my time to costuming and one thing I don't really understand is crossplay, gender swapping and sex swapping costuming. It frustrates me and I want to shout, "CAN'T WOMEN HAVE ANYTHING THAT'S OURS?"
Rule 63 is NOT the same as gender swapping but seems to be the launch point theme held in comics' history. It's the place on the cosplay gameboard where someone decided to flip the switch. A male cosplayer dressed as a male version of a female character that is already "Rule 63" of a male character — pardon me while my head explodes in this Mobius circle of spandex.
From UrbanDictionary.com:
Rule 63 is a rule of the internet that reads as follows: "For any given male character, there is a female version of that character." This rule's exceptions are only in the instance that A: the male character is already so androgynous that a female version would be basically the same, or B: the female version hasn't been drawn yet.
Last year I read Mike Madrid's book THE SUPERGIRLS: FASHION, FEMINISM, FANTASY AND THE HISTORY OF COMIC BOOK HEROINES. The book didn't exactly win my praises for its writing which came off as a long winded research paper or dissertation sometimes contradicting itself; but some of that research gleaned is important and noteworthy for the comic book heroine. Issues discussed were the introduction of female characters solely to balance a male dominant title and purposely to find subtle ways at exploring sexual attraction between characters (Remember this was Comic Code Authority days).
Batwoman was invented to make Batman seems less of a pedophile but today's Batwoman is a kick ass lesbian that carries her own title. I've had arguments to defend Power Girl, not only her most popular "boob window" costume but also her power set. I often had to fight the notion that all female characters are weaker versions of male characters. Susan Storm of the FANTASTIC FOUR may have started out as the token female often in distress just as Wonder Woman was relegated in early JUSTICE SOCIETY but in today's comics Sue Storm is the most powerful member of the original FOUR. Now her son Franklin seems to be overpowering her and his gifted sister Valeria's positions, once again pushing the matriarchy aside.
The history of comics can't be changed no matter how many retcons or reboots they do. It doesn't eliminate where our beloved characters got their start. There's no doubt that our favorite female characters went through struggles reflective of culture's actual battles. The Rule 63 of some characters is easy to identify. Captain America = American Dream. Batman = Batwoman. Spider-man = Spider-girl. Superman = Supergirl. Wolverine = X-23.
As a woman and a fan, I can see the appeal of wanting to dress as a male character to an extent, especially for little girls. If a little girl likes Batman or Spider-man, I don't see the big deal letting her dress up like them; we've all seen how the double standard applies to boys though; your family ends up on every news channel saying you're making your son gay (such was the 2010 instance of a Missouri mom named Sarah who let her five-year-old dress as Daphne from Scooby Doo).
The last few years have seen this swell in American comic cosplay. It's always been done in anime/manga cosplay from the looks of it. A woman dressed as batMAN who doesn't even try to hide her curvy figure seems just as bad as a man in a slave Leia out who is just looking to be silly. If silly is your goal then great.
As an adult, I've come to find that there is a need for women to start empowering the fictional females of literature/media by giving ourselves permission to cosplay as them without excuse for being the weaker, less intelligent, sex pot counterparts of popular male characters. I'm by no stretch of the imagination a die hard feminist. I fully acknowledge that in real world situations, MOST women are weaker physically than men which is why I'm supportive of making sure female soldiers or law enforcement can do the same job at a unified standard not a "men's" or "women's" standard. If you can do it, great, welcome to the battalion. Most women can't. We still have Olympics segregated so let's just be real about it. But in our superpowered fantasies of comics, movies, literature and gaming, the female characters should be given the opportunities to be equal.
Is it just the fantasy of roleplay that drives one person to Rule 63 cosplay? 
Model and costume designer Han Pan chimed in on my Facebook warning where I said I would be addressing this not to piss anyone off.
I have been planning a femme Wolverine, but 1, I don't like X-23 and 2, I am not a six foot buff n gruff dude, nor do I think I could pull one off in cross xD ; whereas, I LOVE Wolverine and I grew up on him pretty hardcore. So, for me, it was do nothing or go female Wolvie. That's just for me though. I'm sure others have different reasons. Like jumping bandwagon or smething, idk. ~HanPan
In April 2011, I asked one of the very best costumers in the US about her group's costuming:
Roxanna Meta explained: "What we're doing is actually neither crossplay (trying to pass as a character of the opposite sex) or even gender bending (playing with gender identity within a character) – we were sex-swapping."
Maybe there's a nuance I can't grasp, but I don't understand the difference between "gender bending" and "sex swapping."
Then there's drag. I've seen phenomenal results (by Ray DeForest) of this so highly praised they even landed in the WIZARD MAGAZINE for best costumes. Drag seems exclusively to mean men dressed as female characters trying to actually look like women which was always my experience at drag show performances; cosplay drag seems to hold true to that. In fact, it's more irksome when a man looks better as Wonder Woman or Mera than I ever could. But that's still holding on to Wonder Woman as a female.
Seeing a man dressed as a male version of a character that has had to fight her way to the mainstream degrades that character's struggles no matter how gorgeous the costume. These are not alternate meta world versions like the SUPERMAN/BATMAN: VENGEANCE series set on Earth-11 (gender reversed world). These are original creations that come off as erasing the female completely. Sure, this is my opinion only and I don't mean to state it as a hot button topic only to express how I see this as a woman, as a female comic fan, and as a costumer. I look at the outstanding craftsmanship that goes into those costumes and I still wonder, why are you dressed like this? Aren't there male characters already that embody that powerset and that moral makeup of the character? Creative license or as a designer exercise is the only reason I can think of to create these.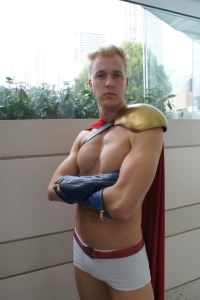 As for the women, I'm bored with seeing any character that needs to be clarified in its name like female Captain America, female Ash, female Spider Jerusalem, female Doctor Who…. Are there no female equivalents that reflect that personality, fashion, morals that interest you? What's lacking in the roster of female characters you could choose? I have no idea why but Booster Gold seems extremely prevalent for women to dress as.
If a woman finds the appeal of a historically more powerful male character more interesting to cosplay than the female character, there seems to be some sort of purpose: an upgrade. Why do men do it?