VODKA O'CLOCK 1551
THOMAS BOATWRIGHT!
AMBER LOVE 14-DEC-2015 It makes perfect sense to have my friend and co-conspirator, I mean collaborator, THOMAS BOATWRIGHT back on VODKA O'CLOCK at this time of year since he was the first 2015 guest. That's his banjo playing you hear in this episode.
Download on iTunes, Stitcher, or listen here.
NERDING OUT & COPYRIGHT STUFF
Thomas and I talked a lot about how drawing and cosplay intersects with possible copyright issues – neither of us are experts. Since THE FORCE AWAKENS is about to come out, Disney has issued a mandate for members of the Rebel Legion and 501st costuming groups not to include weapons in their public appearances.
Disney's penchant for protecting their copyrights lead us to discussing when artists make decisions not to sell prints or commissions of characters they don't own.
MAKING ART DURING SAD TIMES
Recently Thomas and his wife found an injured kitten and tried to get it medical treatment. The kitten couldn't be saved without a lot of money. As it was, the emergency care set them back about $500.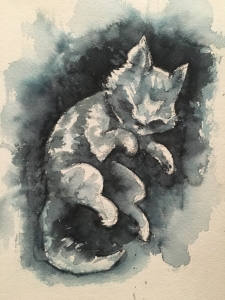 Another friend of ours, musician Sarah Donner, rescues kittens all the time and often has to bottle feed them. She just launched her own Patreon to help with kitten and music/art expenses which will fund more albums. She has appearances by the kittens in her music videos too. She sings about nerdy stuff like unicorns.
TRYING TO CREATE ART/CONTENT WITH ONLY A TIP JAR
One of the main reasons we got to talking was because of Patreon, the system both of us use for perpetual tips to fund our lives while we make stuff for fans/readers/listeners. Patreon has worked well for us and there are some changes made recently and coming soon.
Patreon now has an app. Based on the reviews, there are some kinks to work out, but hopefully it means creators and their patrons can communicate even better.
For 2016, the AmberUnmasked/Vodka O'Clock Patreon will be reformatted to "Per Month" pledges instead of "Per Episode." You still only get charged once per month, but it should help everyone budget easier and be clearer. I'm also going to revisit the rewards and probably change them or take them out; rewards may be bonus content for all backers instead of coming up with tiers. Maybe I can create a NSFW tier though, I'm not sure.
LINKS:
Amber's Patreon – Patreon.com/amberunmasked (if you're looking for the easiest way to find me on other things, https://about.me/amberlove)
Thomas' Patreon – Patreon.com/boatwrightartwork
Twitter @T_Boatwright