UPDATED PLAYLIST FOR
"FULL BODY MANSLAUGHTER"
AMBER LOVE 06-JAN-2016 Don't forget to adjust your Patreon pledges to reflect the new Per Month system. I'm going to keep reminding people of that until it looks like everyone has done it. And please, tell your own followers that I'm a creator worth supporting. Thank you!
On November 20, 2015, I put up the first part of the Full Body Manslaughter playlist. It swung from Annie Lennox to dance party remixes with a couple alternative tracks thrown in. Since my main character, Farrah Wethers, is a massage therapist and I do often listen to the serene new age instrumental tracks that lull people into trances, I didn't think that was the best path for choosing tracks readers could listen to. I want you awake after all.
Annie Lennox "Dark Road"
Angels & Airwaves "Anxiety"
Grace Potter & the Nocturals "Roulette"
Avicii "For a Better Day" (video should have a warning about content; but the premise of young vigilantes against powerful men seemed to fit minus the sex trafficking theme)
Carrie Rodriguez "The Big Mistake"
Billie Holiday "You Go To My Head"
Etta James "Something's Got a Hold on Me"
David Guetta ft Sia "She Wolf"
Lola Rennt "Running One" (from Run, Lola, Run soundtrack)
Christina Perri "Jar of Hearts"
Janelle Monáe & Jidenna "Yoga"
Sugarland "Stay"
Hybrid "Disappear Here"
Jes "Heaven"
Today, I added a few more tracks. I couldn't find the hypnotic version of "Heaven" by Jes that I was looking for, so it's a dance version on the playlist and far more upbeat.
PROGRESS
I'm about halfway through my first round of copyedits. Reading and trying to proof my own typing is terrible. Even I know that a document could be read five times and typos still get in there. I've become a lot more accepting of this since I've seen plenty of established novelists and comic letterers/writers fuck up with typos.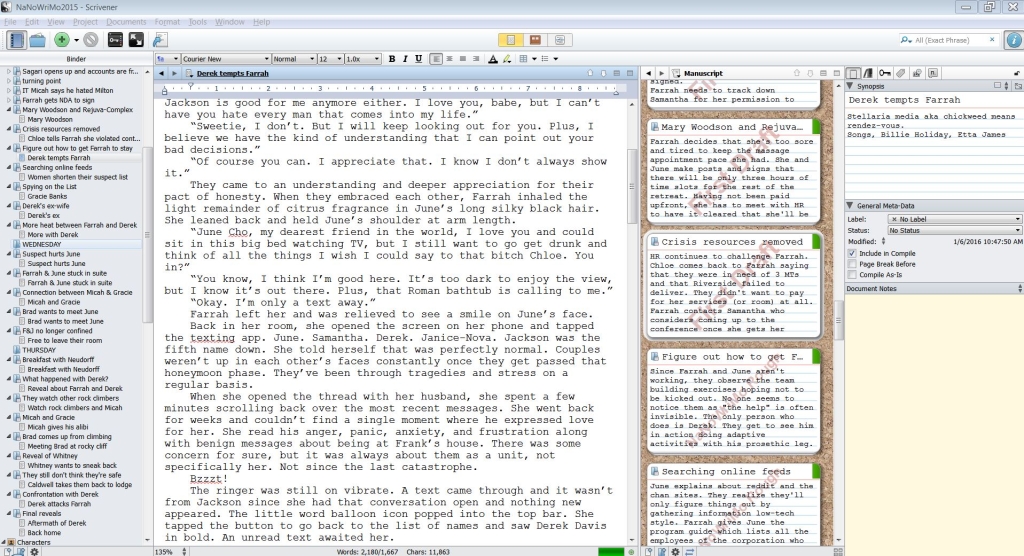 MISC NEWS
In other news, the upgrades to the computer seem to be working. Of course now all the memorized passwords I had need to be retyped and I keep getting them incorrect by a digit or special character.
The exterior of the house is under construction now. Why? Because the contractor took off for Florida during our period of lovely 60-70°F weather. Idiot. Whatever – he's here now and my porch is gone.
Caico is loving the new buggy she got for Christmas. She's not eating much these days and is withering away. I, however, am eating far too much. Our bones creak in harmony though, so at least we keep up with each other.